Bank of America's Support to CYGB Expansion
For over 30 years, Bank of America has provided critical resources in support of City Year's holistic student-facing programming. From serving as our first-ever Team Sponsor and providing financing for our national headquarters, to now sponsoring more than 15 U.S. sites and international affiliates in the U.K. and South Africa, Bank of America has played a key role in our organization's evolution – to the lasting benefit of the high-needs schools and students we serve. We are pleased to share the latest chapter in our partnership with Bank of America – taking place right here at our founding site. This fall, for the first time, City Year Greater Boston expanded our services beyond the Boston Public School (BPS) district – taking on five new partners in the neighboring gateway city of Everett. The Bank of America Charitable Foundation generously provided a $25,000 grant to help make this new chapter possible.
To best capture the impact of Bank of America's latest investment, we spoke with Emmie Lacy, two-time City Year alumna and current Senior Impact Manager, and her teammate Sophia Riviello, first-year AmeriCorps member (ACM). Both serve at the Madeline English School – one of our five new Everett Public School (EPS) partners.
CYGB: What has service been like at the Madeline English School so far?
Emmie Lacy, Impact Manager: As a new partnership in a new district, we have spent a lot of time intentionally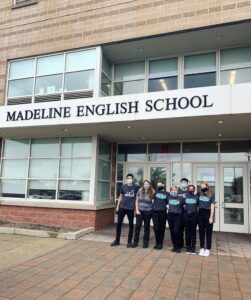 building relationships with our school community and sharing a first-hand overview of what service looks like when you partner with City Year. It took a little more time in September to get into the swing of service, but it has been such a joy to get to connect with students in person again and with my team. I believe every student deserves access to a version of education that fits their needs as a learner and as an individual, and the students that we work with in BPS and now EPS are our future.
CYGB: From your perspectives, Emmie and Sophia, what has it meant to provide programming in Everett for the first time?
Sophia Riviello, ACM: It has been a big adjustment serving with a new district. Trying to figure out your role as an AmeriCorps member, while simultaneously trying to figure out my place at City Year and at the Madeline English School, has been challenging. But I signed up for a year of service because I wanted to fully dedicate my time to a cause that is larger than myself. Our students are at the forefront of our service; our diversity and collaboration are what allows us to best support them.
Emmie: For me, serving in a new district is an opportunity for growth and for expanding our reach of support. We are in a critical transition in education with COVID and with virtual and hybrid learning, and it is important to reevaluate what supports our students need. Partnering with the Madeline English has provided an opportunity to re-envision what collaboration looks like with partner schools and has allowed us to show a new community the positive impact that ACMs can have on students' growth and development.
CYGB: What is your team like?
Emmie: I'm biased, but I have the best team! We have a strong group that really cares a lot about their students
and the school community. They've worked really hard to build intentional relationships with their students and have collaborated with their partner teachers to develop their understanding of what supports a City Year member can provide in the classroom space. They also have so much love and empathy for each other as teammates, too.
CYGB: What is your favorite part of service?
Sophia: My favorite part of service is my students. That's a no-brainer. They have brought so much joy and happiness into my life. I swear they're the ones supporting me. I work in the third grade, so mostly eight and nine year-olds. I'm biased, but I think that's the best age. They all have their own little personalities and hopes and dreams. I am grateful for masks because sometimes they make me laugh when I shouldn't! I wish I could give all 18 of them the world. But for now, I'll just help them with English/language arts and let them roast me.
Emmie: I love getting to see AmeriCorps members build connections with their students. For some students, it
takes longer than others to build that sense of trust and it is so rewarding to see ACMs put in the hard work to bridge understanding and foster collaboration. I also love the times that I get to personally connect with students, whether that is greeting them as they come in the door each morning, when I'm coaching an ACM during class time, or in afterschool programming – as Sophia said, they bring me so much joy.
CYGB: What does it mean to have partners like Bank of America donating to our work?
Emmie: Partners like Bank of America are essential to the work of a nonprofit. These donations allow us to better provide services and resources to our school communities; they help us to provide things like whole-school engagement activities, social-emotional learning, and classroom supplies. We're grateful that Bank of America has been there through so much of City Year's growth and evolution – it means a lot to me as someone who's out in schools working with students every day, just knowing we have their support.