There are a lot of things I've enjoyed so far while serving on Team Care Force. One of my favorite aspects of the job is the opportunity to work with people on different event team. My team and I have traveled to many cities, and we've served with some incredible people. One group that we've partnered with several times this year is the Boston Civic Engagement Team (BCE), sponsored by National Grid. The BCE team is made up of Returning AmeriCorps Members (RACMs) interested in another year of service with City Year. Instead of serving in a classroom alongside a partner teacher, BCE partners with schools and corporations around the city of Boston to complete transformation projects in schools (including non-City Year schools) as well as "kitting" projects that benefit students and  staff. While BCE events are similar to Care Force events, there is a key difference between the responsibilities of the two teams. Team Care Force members focus more on volunteer engagement and event manager support, while BCE is more involved in the planning stages of their events with each member being responsible for leading their own events throughout the year.
This year's BCE team consists of four individuals:
Avian Soto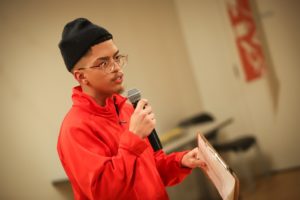 Hometown: Boston, MA
First Year Service School: Henry Grew Elementary School
Why did you apply to BCE? I wanted to make a lasting impact in the community that made me who I am today.
Claire Turner
Hometown: Norwalk, CT
First Year Service School: Henry Grew Elementary School
Why did you apply for BCE? I loved serving in a classroom last year, and I wanted to serve another year and wanted to see another side of City Year.
Doug Peters
Hometown: Windsor, CT
First Year Service School: Holmes Innovation School
Why did you apply for BCE? Service Reserves introduced me to physical service, and I wanted to learn all aspects of it.
Halli Grunder
Hometown: Cleveland, OH
First Year Service School: TechBoston Academy
Why did you apply for BCE? Last year, I saw firsthand the impact an environment can have on students in terms of encouraging them to come to school and in terms of their experience while they're in school. I wanted to be part of environment beautification and making our school reflective of spaces students deserve to learn in.
The 2019-2020 BCE team is a great group of people to collaborate with both in Boston and on the road. The first BCE event we supported took place at the Higginson-Lewis K-8 School, where we completed several murals and painting projects in addition to creating kits for both the students and staff to welcome them back for the new school year. We also assisted BCE during their events with Vertex and MFS, where Doug and Claire were event leads respectively. Vertex volunteers worked on  two projects: packing 1,000 MCAS kits for the students at Boston Tech Academy and decorating and packing kits for the faculty at TechBoston and the Burke High School. MFS volunteers completed two painting projects ­­— repainting the main hallway and eight doors in the main hallway — and packed four kinds of kits to donate to the Denney Boys & Girls Club and the McCormack Middle School.
In addition to leading corporate volunteers, the BCE team also engages the local community and Boston-based ACMs. They engage the local community through their Community Crew, a monthly Saturday opportunity for community members to do service and learn more about City Year. Additionally, BCE works with Boston City Year ACMs through Service Reserves, which allows first year City Year ACMs to gain leadership skills by participating in BCE events.
This year BCE also had the opportunity to support Care Force on events. The whole team along with staff member Graham Zinger was able to fly out to San Jose, CA, to support the Synopsys event at the Ryan STEAM Academy. During this event, BCE worked with TCF as well as the Chicago Civic Engagement team, Care Force Reserves, and City Year San Jose ACMs. Avian commented that working with the other City Year teams was his favorite part of the trip. Claire enjoyed the opportunity to connect with the Ryan STEAM Academy's Team Leader and hear about what it was like to live in San Jose. Doug worked with some amazing middle school volunteers on event day and Halli's favorite part of working in San Jose was getting to know City Year ACMs from different sites and learning different prep methods from them. The BCE team is made up of four hard-working, capable individuals. They add enthusiasm and efficiency to every event they're a part of, and I can't wait to see what they accomplish next.