18-Minute Networking with Deloitte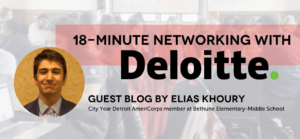 Forming professional connections is one of the hardest parts of adulthood. But City Year Detroit's recent 18-Minute Networking event, sponsored by Deloitte, made this crucial part of career development a little easier.
This networking event was designed to help AmeriCorps members make informed decisions about their Life After City Year (LACY); to provide resources and support to AmeriCorps members who will either start or return to school; and guide those who are looking for jobs after their service. We are grateful for Deloitte's partnership to provide our AmeriCorps members an opportunity to make connections and space to practice the art of networking and building relationships. City Year Detroit AmeriCorps members had the opportunity to liaise with community leaders across a variety of key industries and sectors.
One such leader was Hank Moon, a federal prosecutor working in the United States Attorneys' Office. A graduate of Yale Law School, Moon specializes in national security and has been a proud resident of Detroit since 2016. He gave valuable advice to AmeriCorps members considering legal careers and stressed the importance of following your passion.
Another professional in attendance was Sam Liveson, an environmental engineer with the Michigan Department of Environment, Great Lakes, and Energy. He spoke to AmeriCorps members about his background in engineering and computer science as well as the differences between public- and private-sector work. Alongside Moon and Liveson, there were emergency physicians, management consultants, and heads of nonprofit organizations in attendance.
City Year Detroit AmeriCorps members were overwhelmingly happy with the experience. Getting to socialize with and learn from an outstanding collection of accomplished professionals led to critical insights. Many AmeriCorps members reported feeling more confident in their Life After City Year plans after participating in 18-Minute Networking. Overall, the event was a resounding success. Big thanks to the leaders, professionals and AmeriCorps members who made it so.