Thinking about a year of service in Kansas City? Here's what recruiters think you should know.
Experience with kids is a plus, but it's not the only way to stand out.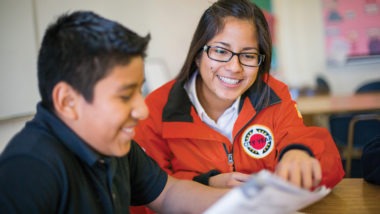 Tutoring and mentoring kids is central to a year of service with City Year, so having spent a summer as a camp counselor or afternoons as a classroom volunteer will certainly make you a competitive applicant. But in Kansas City, corps members are given the chance to put other skills to use, too. Corps members often find opportunities to speak second languages with students and their families, use athletic and artistic talents to coach and mentor during after-school programming, and employ leadership, public speaking, and organizational skills by joining special event committees. Have a unique skill? Don't sell yourself short. Make sure to highlight your various talents and passions during the application process; chances are, you might even get the chance to incorporate your skill into your service with students.
Living here is affordable- if you plan ahead.
Many corps members live in the Downtown and Midtown areas of the city, oftentimes in walkable areas with access to dining, transportation, outdoor recreation, and entertainment. There are several income-restricted properties that rent newly remodeled lofts in the city below-market rate to those who qualify- including corps members. However, these properties tend to fill up quickly. Corps members in Kansas City typically pay between $400-600 per month for rent, but nearly all corps members live with at least one roommate. Apply early to be part of the roommate search process and leave plenty of time to get on property wait lists.
Never been to the Midwest? No problem. Never once left? That's fine too.
Corps members in Kansas City are evenly split between being local and moving here from other states for a gap year. Your team will be diverse; you'll have teammates who grew up in the exact neighborhood where you serve and teammates who were born hundreds of miles across the country. Most corps members (though not all!) are recent college graduates with majors spanning the gamut. Whether you're taking a gap year before medical school, looking to build skills to become a teacher, or hoping to discover what career path will come next- you'll likely find another corps member in your shoes. Whether you want to put down roots in Kansas City or you only plan to stay for one year, show up ready to take advantage of the many networking opportunities provided to City Year AmeriCorps Members. But be prepared: once you come here, you may never want to leave.