Honoring the 2021 Idealists of the Year
City Year's mission is fueled by a culture of idealism
Our work is grounded in the unshakeable belief that we can all help make the world a better place. Idealism isn't just encouraged, it is necessary to help advance our mission of keeping students in school and on track to graduation. We believe these traits are contagious, and that's why we strive to share them with our communities and the world around us.
City Year Kansas City is proud to honor 19 Idealists of the Year
Each Year, City Year Kansas City honors individuals who, like our AmeriCorps members, embody the spirit of idealism. They show a commitment to improving the Kansas City region by making a difference in the life of one person, an organization, or an entire community. Idealists of the Year are nominated by sponsors of City Year Kansas City's 3rd annual Idealist Gala.
Wendy Doyle
Nominated by Kathy and Mark Donovan, Wendy Doyle is the CEO of United WE. 
Over the last 7 years as CEO of United WE formerly The Women's Foundation, Wendy Doyle has worked tirelessly to advance all women's economic and civic leadership.  Based in Kansas City, United WE uses research based, non-partisan advocacy to further women's opportunities by working with elected officials and community leaders positively impacting hundreds of thousands of women. Just last year, United WE lobbied for a law in Missouri that removes barriers to professional licensing, allowing professionals like teachers or doctors to work immediately. MO is one of only two states allowing women to cross state lines without disruption of work or opportunity. 
In addition to research based advocacy, Wendy has overseen the start of the Appointments Project, focused on mentoring women to participate on civic and professional boards. To date, the Appointments project has assisted more than 140 women with appointments to civic boards, and is currently rolling out in cities across the country. Wendy and United WE are a model for organizations around the country interested in women's economic advancement.
Sue Jayaratne 

Nominated by H&R Block, Sue Jayaratne is the Director of Tax Development and Project Management Office. 
Sue has worked in 4 different countries throughout her 30-year career, including A&Z Bank in Melbourne, Australia, Wellington Regional Hospital in Wellington, New Zealand, and Sri Lankan Airlines in Sri Lanka before moving to the United States. Sue is grateful for her international work experience because it gave her an appreciation for diversity and the contributions people with different perspectives bring to her teams.  She graduated from UMKC with a degree in graphic design. In the Kansas City area, she has worked at Sprint, Stouse Printers, Girl Scouts of Kansas City, and is currently in her 18th year at H&R Block. She quickly realized that she excelled at operational planning and execution and moved into her current role. 
Sue says the most rewarding part of her job has been to lead and empower teams in order to cultivate authentic engagement in the work and to create a real sense of belonging– all of this makes work a better place to be. She truly believes that within all of us is the power to lift others up and, in doing so, bring more purpose to our own lives. Sue recognizes that although it can be difficult to find time to volunteer outside of work, incorporating volunteer efforts into team activities elevates everyone. Sue lives in Overland Park, KS with her husband, Sunil, and dog, Marcel, and loves visiting her daughters and her granddaughter. In her free time, she loves to travel, cook authentic Sri Lankan food, and entertain friends. 
Adrien Lewis
Nominated by Bruce and Carolyn Kusmin, Adrien Lewis is the Founder and CIO of CarePortal  and The Global Orphan Project 
Since 2010, Adrien Lewis has served on the leadership team of The Global Orphan Project, a Missouri-based 501c3 dedicated to the care of orphaned and abandoned children from Kansas City to Kampala.  Seven years ago, while serving as a foster dad, God gave Adrien the idea for CarePortal. CarePortal is an online, connective technology platform that catalyzes church-state partnership for the benefit of local children and families in crisis.  Social workers enter vetted needs into CarePortal which shares them, real time, with churches and other community leaders who have opted in. Some think of CarePortal as an Uber for child welfare. 
Since its inception six years ago, 2,500 churches operating in 23 states and two Canadian provinces have partnered with close to 300 agencies to care for more than 90,000 at-risk children and their families, including more than 20,000 children in Missouri and Kansas.  These CarePortal connections have delivered more than $29 million of economic value to local communities.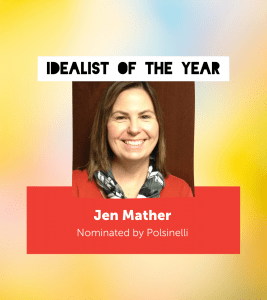 Jen Mather
Nominated by Polsinelli, Jen Mather is a Legal Administrative Assistant at Polsinelli. 
Recognizing when there is a need in the community is one thing; acting on it is another. From a young age Jen has acted on what she saw happening around her. She founded one of the first local SADD chapters, helping young children make wise choices. In college, she was president of the college's national service fraternity chapter, Alpha Phi Omega. Jen was also recognized with a Presidential Service Award for her ongoing volunteer activities. Throughout the years, Jen's leadership has rallied her friends and family to volunteer as needed. 
As part of Polsinelli's VISION program, Jen continues to recognize and help those in need. Jen has helped provide meals to the Ronald McDonald House and prior to COVID, she and her family could be found at the house cooking for and serving its residents. For many years, Jen has also assisted with raising money, collecting, and organizing toys for area underprivileged children through the Catholic Charities Shining Star program. She and her family offer their shopping services to others and have been spotted pushing several overflowing carts of toys through the store. Jen quietly enjoys knowing she is making life easier for those who are facing their own adversities. 
Laura McCarthy
Nominated by Global Prairie, Laura McCarthy is the Managing Director of Client Partnerships. 
After participating in the Civic Council's leadership program, Kansas City Tomorrow, Laura was asked to lead the marketing committee for KC Rising, a regional, long-term initiative to accelerate our region's economic growth and prosperity. KC Rising imagines a greater future for Kansas City — not just for one institution, one industry, or one community, but for everyone. Without fanfare, Laura assumed a critical role in mobilizing our top civic and business leaders to develop a marketing strategy to support the goals of KC Rising and help ensure its success. 
Laura's unwavering commitment to making an impact on our KC region has been evident since she returned home to our community over a decade ago after working in Washington, D.C. for the U.S. Department of Justice. In addition to her pro bono role with the KC Rising Initiative, Laura is the chair of the board of the Child Protection Center (CPC) and is a member of the board of directors for the Metropolitan Organization to Counter Sexual Assault (MOCSA). 
Laura exemplifies Global Prairie's commitment to business (and business leaders) by being a force for good in our community.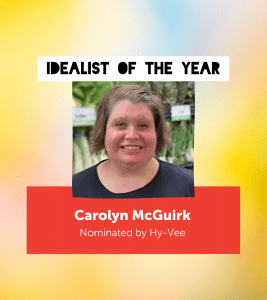 Carolyn McGuirk
Nominated by Hy-Vee, Carolyn McGuirk is the Starbuck Manager within Hy-Vee at the Olathe #1 location. 
Carolyn started with Hy-Vee in 1999 and has served in a variety of roles including Customer Service Manager, Human Resource Manager and Customer Experience Director. She volunteers with Harvesters and is active in her church community. She truly teats her customers like family and this past year she supported a customer who has cancer by taking meals & favorite coffee and just spending quality time with her. Carolyn even shaved her head in support of this customer. 
Last February 2020, a friend who works for the Kansas Department of Social Services reached out to her and asked if she would be a foster parent. Carolyn and her husband were honored and excited and quickly completed the classes and are currently fostering a 12-year-old boy. Their hopes are to be able to adopt him soon. The store manager shared that "Carolyn has been an awesome ambassador for our community, the Olathe #1 Hy-Vee team, and our whole company." 
Patrick Ottensmeyer
Nominated by Kansas City Southern, Patrick Ottensmeyer is the president and CEO of Kansas City Southern. 
A company's leadership sets the tone at the top. In 2016, as KCS' new president and CEO, Pat Ottensmeyer defined a vision and core values for the company, including Safety, Customer Focus, Communication, Teamwork, Initiative & Innovation and Diversity & Civility. In recent years, the vision and values helped propel the company forward. In 2020, they helped KCS withstand the challenges of the pandemic, politics and civil unrest, and allowed KCS and Pat personally to help others. 
In 2020, KCS celebrated a 20-year partnership with The Salvation Army by raising over $277,000 as part of the Holiday Express project to benefit the Salvation Army in 20 communities. Additionally, Pat and his fiancé Deanne Porter, dedicated their own time and resources to successfully co-chairing the Christmas Campaign for The Salvation Army of Kansas and Western Missouri. 
KCS Holiday Express, combined with gifts throughout 2020 to United Way for COVID relief, to the American Red Cross for hurricane relief, and donations of medical equipment in Mexico, brought KCS' charitable giving for 2020 to well over $1 million. This would not have been possible without the leadership and generous heart of Pat Ottensmeyer, which is why KCS is pleased to nominate him as a City Year Idealist of the Year.
Mike Oyster
Nominated by Great Range Captial, Mike Oyster is the Founder and CEO of Apple Bus Company. 
He has a public service resume that includes stints as a City Alderman and Mayor, and a nearly 15-year run as a school board member. Despite these front-and-center leadership roles, what's perhaps most idealistic about Apple Bus Company's CEO is the way he's built a workplace culture where employees feel known, valued and cared for. For Mike, this might mean providing clothes to an employee who needs them or offering coaching sessions to another who's interviewing for an internal promotion. In many cases, it involves a handwritten note. These cards mean so much to Mike that he's kept a log for decades detailing the who/when/what of each one, and he doesn't shy away from the toughest of subjects. If one of his employees is struggling with the loss of a loved one, Mike wants them to feel seen in their grief. Mike started his career as a mechanic, but his true gift lies in understanding how people work. He doesn't just see the best in others; he works to bring the best out. 
Hillary Stamper
Nominated by Veracity, Hillary Stamper is the Director of Employee Experience and Community Impact. 
Hillary Stamper embodies the qualities it takes to be an Idealist of the Year. For fifteen years, she's led our community engagement efforts at Veracity, turning it into a core value for our organization that is now thread through our culture and is key to our overall business strategy. Hillary takes community engagement far beyond financial support; under her leadership, she made service, impact and volunteerism the three pillars for this value. This ensures a community-driven approach to business, resulting in a more unified team that is inspired to serve our clients, our people and the Kansas City community with a giving-first approach. Her passion for helping others is infectious. Our team shares a sense of pride in representing our brand at community events and volunteer programs, and it's because Hillary instilled this mindset in us all. She also volunteers one day a month at various regional nonprofits. She then shares their mission and needs with our team, educating us on which opportunities may fit our own personal passions. Hillary an idealist, a mentor and a servant leader every day. 
Amber Struemph
Nominated by McCownGordon Construction, Amber Struemph is an Estimator at McCownGordon. 
Within McCownGordon, Amber is an active member of the MGC Cares committee, a community focused group within McCownGordon. Amber helps organize an annual partnership with the Ronald McDonald House, coordinating time for several associates to cook meals for the families staying at RMH. She helped coordinate the revised pandemic approach for the last two years to deliver premade meals and gifts of selfcare goodies to help moms relax during their stay. She dedicates her time to the Young Friends of Starlight as the membership chair to bring support to the arts. Finally, Amber is committed to supporting women in construction through the local chapter of the National Association of Women in Construction as a Board Member and one of the organizers of the annual golf tournament, raising up to $20,000 for scholarships. She's also an active member of McCownGordon's own Women in Leadership committee. During Women in Construction week, she promoted NAWIC events and helped produce content for McCownGordon's internal and external communications raising awareness and support for women in the construction industry.   
Bri Struemph
Nominated by Mariner Wealth Advisors, Bri Struemph is a Wealth Advisor for Mariner. 
In her role, she provides customized wealth management solutions based on the needs and objectives of each individual client. She works with clients in developing financial plans, asset allocations and insurance reviews and helps manage their day-to-day needs. She also exemplifies the firm's commitment to community service and volunteerism, at work and in her personal time. Bri has been serving on the Mariner Foundation board for the last two years, playing an active role in growing volunteerism and engagement in communities across the country.  Last year she started teaching trauma-informed yoga to teens with HALO, which is a non-profit focused on ending childhood homelessness.  In addition to these roles, she also dedicates time participating in volunteer projects to help others in any way she can whether that is through clothing and book drives or offering free yoga and meditation classes to those in need. Bri truly exhibits our giving philosophy of to whom much is given, much is expected. 
Zane Thompson
Nominated by CommunityAmerica Credit Union, Zane Thompson is the Sr. Loan Officer, Outbound Sales for CommunityAmerica. 
Early in Zane's time with CommunityAmerica, he was inspired to make a difference. After attending an information session for Big Brothers Big Sisters Kansas City (BBBS-KC), Zane decided to become a Big. He'll tell you it was the easiest decision he's ever made and one that's creating a lasting impact for his Little. The best part of being a Big for Zane is seeing that the positive influence he's providing to his Little is inspiring his Little to overcome obstacles and be the best they can be. In addition to serving as a Big for the past six years, Zane was honored to be invited to join the BBBS-KC Big Impact Group where he's served for the past two years. The Big Impact Group is a group of dedicated young professionals who volunteer their time, talents and energy to support fundraising and recruitment initiatives for BBBS-KC. Through his work on that team, he's now using his experience to recruit new Bigs for Littles waiting to be paired. Zane making not only for his Little, but our entire community. 
Shakia Webb
Nominated by UMB, Shakia Webb is the Small Business Relationships Officer at UMB. 
Since joining UMB in 2017, Shakia Webb has been extremely involved in the local small business community in Kansas City. At the height of the COVID-19 pandemic, Shakia participated in a taskforce that explored barriers minority- and women-owned businesses faced in accessing capital. When it was discovered that a large number of minority businesses did not have access to apply for Paycheck Protection Program funding, she moderated educational webinars featuring UMB experts on the subject for those businesses. She also served on review panels for small business relief grants. 
UMB has eight associate-led business resource groups (BRGs) that coordinate programs and initiatives to help cultivate an inclusive workplace and Shakia is co-chair for the Blacks for Empowering People Through Inclusion and Collaboration BRG. She encourages all associates interested in diversity to align with black associates to facilitate and participate in inclusive dialogue.
Vicki Webster
Nominated by GEHA, Vicki Webster is the Employee Relations and Diversity Equity & Inclusion Manager at GEHA. 
No matter what role Vicki has held in her career, she has brought a passion for ensuring that employees experience a sense of belonging, safety and support at work. At GEHA, Vicki worked diligently to lead the organization in creating and implementing a diversity, equity and inclusion strategic plan – committed to fostering diverse employees, a workplace of belonging, an inclusive brand and rich community ties. In the past year, Vicki has led a cross-functional team in offering programs around practicing racial allyship at work, behavioral health awareness, connecting with our Latinx colleagues, honoring LGBTQ pride and more. She also directed the organization's work to create its first employee resource groups, employees who come together around a shared affinity to provide support, development and business innovation. Throughout her work, Vicki creates deep and authentic relationships with her fellow employees, serving as a safe space to express concerns, propose solutions and receive support. Vicki has also worked to connect GEHA with community organizations aligned with their mission, vision and values – including the Paseo Stairs project and the Bluford Healthcare Leadership Institute. Outside of work, Vicki is a member of Church of the Resurrection Downtown, where she serves as a small group leader and has participated in various service opportunities – Serve Saturdays, the KC Farm School and supporting staff at Wendell Phillips Elementary School. 
Loren & Tom Whittaker
Starting his career at JE Dunn in 1994, Tom Whittaker is an influential leader within the organization, construction industry, and the Kansas City community. As Chief Legal Officer, Tom Whittaker is responsible for all legal matters at JE Dunn. He has provided leadership for multiple industry groups, including the Builders' Association, Associated General Contractors of America – Kansas City, and Labor Management Council. In addition, Tom is deeply engaged throughout the community. He has served on over 11 boards of directors and multiple committees, including The Barstow School, Kansas City Ballet, Lyric Opera, Kansas City Crime Commission, and World War I Museum and Memorial. He shares his passion for community involvement with his wife, Loren. 
Loren Whittaker, Ph.D. is the owner of Whittaker Fine Arts Appraisals, and an accredited member of the International Society of Appraisers. She serves as an adjunct professor of art history at the Kansas City Art Institute, and volunteers her time as a UMKC Trustee and as Board President of the UMKC Friends of the Conservatory. Loren and Tom have served side-by-side as co-chairs of the Children's Mercy Hospital Auxiliary – Hands & Hearts Together, and the Kansas City Ballet's Diamond Jubilee. 
Through their years of service and commitment to the Kansas City community, the Whittakers are impacting lives for the greater good. 
Kyle Williams
Nominated by Blue Cross Blue Shield of Kansas City, Kyle Williams is the General Manager and Executive Chef of the Live Blue Kitchen + Café located inside the downtown Kansas City headquarters of Blue Cross and Blue Shield of Kansas City (Blue KC). 
Chef Kyle has always been passionate about giving back to the community and when the COVID-19 pandemic shut down most of the city, he knew his talents could help the hungry. Blue KC and Chef Kyle wanted to keep the Café staff employed while also taking care of Kansas Citians in need. He and his team jumped into action and began preparing 200 meals daily for area non-profit organizations. Since April of 2020, they have donated over 45,000 healthy meals to date. Chef Kyle knows how important it is for the community to have nutritious meals to support their overall health and well-being. 
Photo by Kelly Fantasma
Jim Zakoura
Nominated by John and Terry Petersen, James Zakoura is a partner at the law firm of Smithyman & Zakoura and the founder of Reach Out Kansas, Inc. 
Reach Out Kansas, Inc. has been partnering with organizations throughout the State of Kansas for over 10 years to address the pervasive consequences of decreased funding for the Arts.  Jim had a vision that every person in Kansas, regardless of their economic situation, should be given the opportunity to experience the joy of music and other art forms and to be witness to the magic created as people cross age, gender, and racial barriers to participate.  Consulting with artists, educators, and community leaders, partnerships have been forged that, through the medium of the arts, have created social change across the State. 
From providing instruments to children that could not afford them so they could participate in school bands to sponsoring free concerts and symphonies throughout Kansas, Jim has created opportunities that had not existed and enriched the fabric of communities along the way.  In addition, Reach Out Kansas has made it possible for Kansas musicians to perform in once-in-a-life time venues such as the Kaufman Center, Carnegie Hall, and the Kennedy Center.  The message of Reach Out Kansas has been loud and clear: the arts are the perfect medium within which we can come together, to care for our neighbor, and provide skills that improve lives.
Rebekah Wampler
Nominated by City Year Impact Staff, Mrs. Wampler is a 5th grade teacher at Whittier Elementary School. 
Whittier is one of the most diverse elementary schools in the Kansas City Public School system with dozens of different languages spoken and more than 400 students in the building. Mrs. Rebekah Wampler teaches in a 5th grade classroom, alongside a City Year AmeriCorps Member. When being described by Whittier's Impact Manager, Jorge Fuller, he stated that "Mrs. Wampler exemplifies the City Year Value of Unbuntu." Continuing, she spends times living and learning diversity with reading material, learning languages, and advocating daily for our students. Mrs. Wampler often can also be found creating "Donors Choose" for a multitude of initiatives and following up with showcasing our students using the resources. Even in virtual learning she has kept the same energy, drive, and commitment. Mrs. Wampler embodies what it means to meet students where they are and strives to be the best partner teacher with City Year Kansas City.