City Year Little Rock Announces Two New Managers
Hires Include Former AmeriCorps Member and Local Educator
LITTLE ROCK, Ark. (Jan. 3, 2023) – City Year Little Rock is enhancing its support for AmeriCorps members, current and future, with the help of two additions: Alexis Freeman, community partnership manager, and Marlie Mehu, learning and experience manager.  
"We are proud to have a team with diverse perspectives and experiences, including many who have taught in local classrooms," said Jennifer Cobb, senior vice president and executive director. "Alexis and Marlie understand the challenges students and schools face and will offer invaluable guidance to our AmeriCorps members and partners."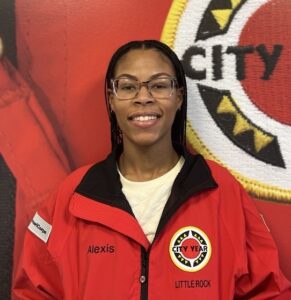 Before returning to City Year Little Rock, Freeman was an admission recruitment coordinator for UA Little Rock, focusing on student outreach in Arkansas, Tennessee and Missouri. She served as an AmeriCorps member with the education nonprofit during the 2019-2020 academic year. She is a graduate of the University of Arkansas.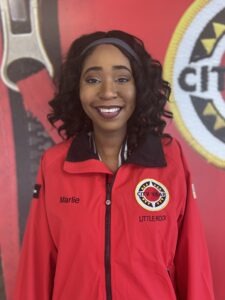 Mehu previously taught English language arts at Sylvan Hills Middle School and was director of education for Huntington Learning Center in Little Rock and Brooklyn, New York. A first-generation college graduate, she holds a bachelor's degree from the State University of New York Plattsburgh and is pursuing a master's in teaching from the University of Central Arkansas.   
About City Year Little Rock: City Year Little Rock has been serving Central Arkansas since 2004. This year, AmeriCorps Members are full-time tutors and mentors in four Little Rock School District schools: Mabelvale Elementary, Stephens Elementary, Cloverdale Middle, and J.A. Fair K – 8 Preparatory School.     
About City Year: City Year helps students and schools succeed. Teams of City Year AmeriCorps Members provide support to students, classrooms, and the whole school, helping to ensure that all children receive a high-quality education that prepares them with the skills and mindsets to thrive and contribute to their community. Studies show that schools partnering with City Year were up to two to three times more likely to improve on math and English assessments.  
A proud member of the AmeriCorps national service network, City Year is supported by the Corporation for National and Community Service, local school districts and private philanthropy. City Year partners with public schools in 29 communities across the U.S. and through international affiliates in the U.K. and South Africa. Learn more at www.cityyear.org.