Reflecting on Three Decades of AmeriCorps: Celebrating the 30th Anniversary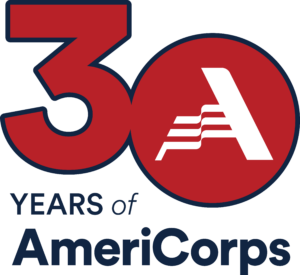 This year marks a momentous time in AmeriCorps' legacy – thirty years of commitment to national service. At its start, more than 20,000 Americans raised their right hands and pledged their service to their communities and nation. "Since then, more than 1.25 million Americans and hundreds of thousands more AmeriCorps Seniors volunteers of all backgrounds have followed in their footsteps, providing billions of hours of results-driven service across each of the 50 states and US territories" (AmeriCorps.gov). AmeriCorps members serve around the globe and show up for the communities they serve in so many different ways. To celebrate this milestone, I have interviewed two people who have served in various places in AmeriCorps. I asked them two questions that I think sum up the impact that AmeriCorps service can have on its members and the people it impacts.  
AB Dickson, Community Resource Specialist- AmeriCorps State National Service and United Way Northwest Arkansas Partnership, Disaster Management Outreach and Communications Specialist- AmeriCorps VISTA National Service and United Way Northwest Arkansas Partnership, three years total as an AmeriCorps member.   
"My AmeriCorps service has been a source of pride in my journey. My time in service taught me hard work and how to support my community. I learned that helping others is how I want to live the rest of my life. Knowing that my actions directly benefit my neighbors always meant the world.   
I left my service years knowing that individuals can profoundly impact others for the better. The impact of my actions holds equal value, whether it extends to the entire world or just a single individual. I will forever carry the ripple effect of serving others and the conviction that I can effect positive change, regardless of the scale of my efforts."
Nina Symone Sharpley, AmeriCorps Member at City Year Little Rock for the 23'-24′ school year.
"My service means that I have the power to make a true impact on students who often get forgotten or overlooked. No child will be left behind or forgotten when they have the community of support they need. It also means sticking with it. A job in national service can be highly challenging, with extended hours and high-stress environments, but at the end of the day, my work means something to me. The one thing that will stick with me well past my year of service is how children respond to people who are gentle and kind to them. It makes a huge difference. That is the most essential part of my role here in the school – to teach and provide a softness and gentleness of life and love. It will continue influencing my life inside and outside of work beyond this year.   
These are just two experiences out of millions of service members that have carried the AmeriCorps legacy these past three decades. It is an honor to be able to wear the City Year red jacket every day and know that I am following so many people who chose to dedicate their time and energy to service the same way I have.