City Year Milwaukee AmeriCorps Member Spotlight: Meet Deniko Montgomery
Meet Deniko Montgomery, a proud City Year Milwaukee AmeriCorps member and learn more about him in his poem titeld, "I am."
"I AM" 
I am Milwaukee born and raised.
And I am determined. I have the mindset of Martin Luther King Jr, Barack Obama, and Dr. Ben Carson. I have a dream that all children of color will live in a nation where they will not be judged by the color of their skin, but by the content of their character. I have a dream that all my sixth, seventh, and eighth graders at Mitchell realized the importance of education and with spirit, discipline, and courage, they can achieve their goals. Yes we can promote change. Yes we can be successful by any means necessary. Yes we can overcome police brutality to inequality. I am educated. High school degree…check. College degree…check. Masters and MD…well not yet. I will be great. I will become a doctor, I have faith.  
I am Milwaukee born and raised. 
And I am a black man, twenty-three with no kids. I have the skin that has taken on the meaning of wrong place and wrong time. Skin that statistically has a higher chance of going to prison then going to college. Skin that has an incarcerated rate of five times more than the rate of whites. Skin that makes up 6.5% of the US population but 40.2% of the Prison population. Skin that forces us to forever try to outrun those same statistics. Skin that is a curse and a blessing.  
Yes, I am Milwaukee born and raised. 
And in that order, I am a proud, determined black man.  
"Meet" other AmeriCorps members and learn why they applied to do a year of service with City Year Milwaukee.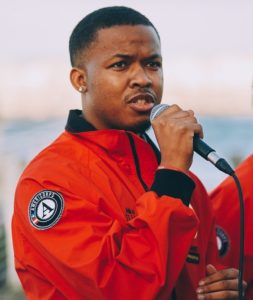 Deniko Montgomery is a proud City Year Milwaukee AmeriCorps member on the Julia A. Uihlein team at Alexander Mitchell Integrated Arts School, and a proud alum of Jackson State University. When asked why he serves, Deniko said, "I serve to be a pillar of my community.  I serve because I believe in the power of the youth. I serve to mentor, coach, motivate, counsel, inspire, and educate the next generation. I serve for all the brown and black skin boys and girls.  I serve because who is better to serve then someone like myself. I serve to be the light and joy to all my students each and every day."