Four car-friendly City Year sites
No two City Year sites are the same. Each city we serve is unique and has so much to offer. An AmeriCorps member's experience serving students in Baton Rouge will differ quite a bit from the City Year experience in Manchester, New Hampshire—with different weather, cultures and local contexts.
The way our corps members get to and from the schools where they serve is no different! Some of the communities we serve in have robust public transit networks, and many AmeriCorps members will commute this way. Driving or carpooling will be less convenient for commuting corps members in places like New York City.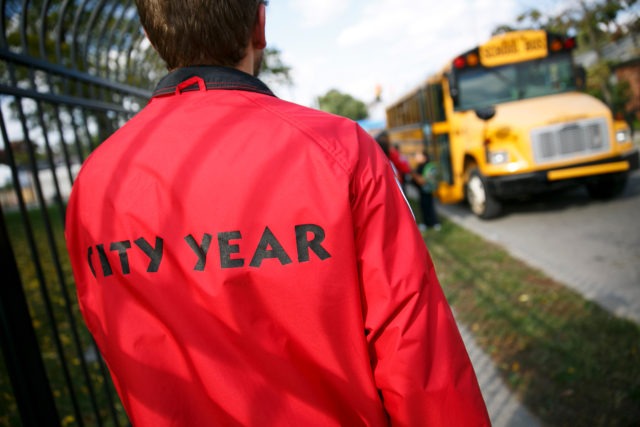 Commuting for City Year service by car
If you already own a car and want to bring it with you for your year of service, many amazing City Year sites can work for you! Here are four cities where it is more convenient to drive or carpool to service:
Baton Rouge, LA
City Year has proudly served in the city of Baton Rouge for over 15 years. Like its neighbor New Orleans, Baton Rouge has a unique culture and history. Steeped in West African, SpSpanish,nd French traditions, it's the state's cultural epicenter. And if you're a lover of college football, this is the place for you! Louisiana State University (LSU) Tigers call Baton Rouge their hometown.
To commute to service—or visit the surrounding nature reserves and parks—it would best to drive or carpool with your fellow corps members in this city!
Jacksonville, FL
Jacksonville is the largest city by area in the continental US, and City Year has proudly served this community since 2013. Like Baton Rouge, it boasts many nature reserves and is a launching point to exploring the beauty and history of northeast Florida. Jacksonville has a total of 20 miles of picturesque beaches where you can enjoy the beautiful Florida sunshine. Outside of your morning and evening commutes, you'll want a car to explore all this city has to offer
Fun fact: There's an excellent dolphin and manatee watching spot on the Main Street Bridge—located conveniently next to the City Year office!
Kansas City, MO
City Year AmeriCorps members have had the privilege to serve in Kansas City Public Schools since 2015. Kansas City is an up-and-coming city, drawing people to its growing creative scene, unique history, great food and affordable cost of living. Are you a professional sports fan? You're in luck! Kansas City boasts a rich sports culture. With championship-winning teams like the Chiefs, Royals and Sporting Kansas City, every night is game night in this town. City Year Kansas City's partner schools span the district, with schools located in the historic Northeast, Linwood and 18th & Vine neighborhoods. All are accessible via the Metro Area Express (MAX) bus system, but most folks would say that driving is the most convenient way to get around town!
Orlando, FL
There is so much more to Orlando than theme parks and resorts! Orlando is an active and vibrant community, and City Year has been serving Orange County Public Schools (OCPS) since 2012. In addition to serving the brilliant students of Orlando, you'll get to enjoy the city's fantastic weather—which averages around 200 days of sunshine a year. It also boasts more than 100 lakes and natural springs and is a short drive away from countless beaches!
Though all City Year Orlando corps members can receive a free city bus pass for the duration of service, you'll likely need a car for your daily commutes and running errands. All corps members can also park their cars on their school's campus without a fee.
And fun fact: Orlando is a bike-friendly city! It boasts tons of local trails for bikers—from smooth and paved park to more rustic and "off the beaten path," there's a bike trail for everyone.
When you commit to serving with City Year, you receive a wide range of benefits beyond site-specific transportation assistance. Explore them all!
Ready to support students and explore some of these fantastic cities? Apply now or attend an information session!