Meet a Mid-Year AmeriCorps member: Helen Moreira, Team Leader at Bethune School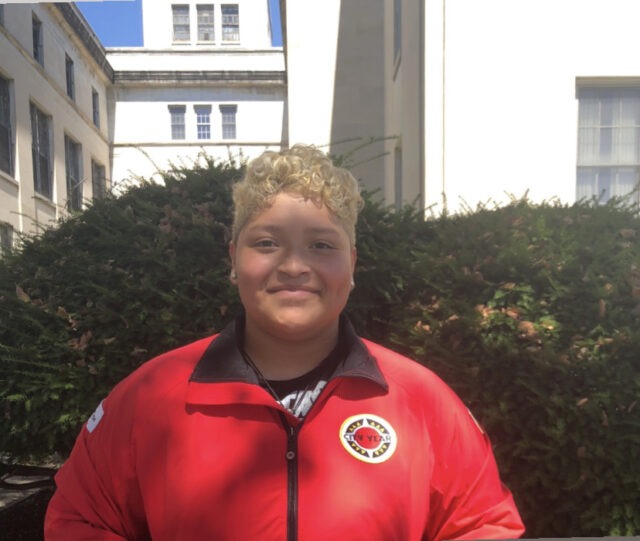 The school year may have started, but it's not too late to serve with City Year Philly! We're currently accepting AmeriCorps member applications for our mid-year terms of service in October and January. Apply by September 27 to start serving October 17, or apply by December 2 to start serving January 9.
To give insight on the mid-year application process, we spoke with Helen Moreira, who served as a mid-year Corps member last year. Helen served their first full year with City Year Philly in 2020-21 at Penn Treaty School, and initially did not apply to return for a second year. Midway through the 2021-22 service year, Helen decided to reapply for our mid-year term of service, serving at Muñoz-Martin Elementary from December 2021 through June 2022. Helen enjoyed the experience so much that they decided to come back as a Team Leader this year!
Read our Q&A with Helen to learn more about why they decided to return as a mid-year Corps member, their experience with the mid-year application process, and tips for those who are considering serving with CYP this year!
What motivated you to apply to serve as a mid-year RACM in 2021-22?
After serving my first year with City Year, I was in college pursuing a major that I realized wasn't my passion. During the middle of the school year, I decided to take a gap year to figure out what I really wanted to do, and I applied to serve as a mid-year returning Corps member in 2021-22. I felt like City Year was the perfect place to explore my interests, and it was a great decision, because it's helped me discover my passion for nonprofit work.
Can you tell us about your experience with the mid-year application and onboarding process?
I had a really great experience. The application process was very straightforward, and I was able to apply, interview, and be accepted quickly. The staff members facilitating the mid-year training sessions did a great job preparing us for service. Specifically, I enjoyed the sessions on social-emotional learning, because it was useful to learn how to help students navigate different situations.
Realistically, starting service midway through the school year is going to be a bit of an adjustment at first, but the facilitators gave us a lot of information and support to ensure we could successfully be part of the school, part of the team, and support students.
What drew you to returning to CYP as a Team Leader this year?
I'm very passionate about supporting my City Year community and, of course, my Philadelphia community and our students. Growing up, I saw a lot of stigma in my community, where students often felt they could not be successful. Experiencing that stigma enabled my passion to work with students with a similar upbringing. My ultimate goal is to create a space where students feel supported and confident. I know that with that extra push, they can become great, successful leaders in whatever they are passionate about.
What advice or words of encouragement would you give to others—either first-year ACMs or RACMs—who are considering applying to serve as a mid-year Corps member?
The advice I would give is to keep an open mind, and to understand that you may not have all the same tools as Corps members who start at the beginning of the school year. It will be trial and error, but keeping an open mind will allow you to stay on your feet and improvise as you learn.
For example, I had a hard time not knowing my school placement, or how long that process would take. I knew it would not be fast or easy to get places in that space because I was a mid-year, but having an open mind and realistic expectations kept me on track on to be able to focus on ways to introduce myself to the students, or reflecting back on the trainings so that I could catch up and understand the strengths I could bring to the team.
Are you considering a year of service, or do you know someone who is? City Year Philly is currently accepting applications for our mid-year October and January start dates! Click below to start your journey.