When I am asked to describe what 'mentorship' means to me, I think of City Year. I am reminded of my time as an elementary and middle school student and the young people in red jackets who served amicably for a cause greater than themselves. City Year had a tremendous impact on not only my progressing education but also my older brother's as well. My childhood, like the children I serve today, was at various times very challenging. However, thanks to the brave and selfless City Year mentors my brother and I had in our primary learning spaces, we have grown to be mentors and leaders in our own ways.  
I remember arriving at school on early Monday mornings and being met with a barrage of positive and joyous adults doing chants that reminded me of summer camp, only it wasn't summer camp, it was my least favorite place to be – school. I can recall one of my favorite memories as a student in the City Year afterschool program was when one of the City Year leaders, who is originally from California, encountered snowfall in New York City for the first time. Their experience seemed magical in those moments and that energy flowed into the students by the end of the program day, we were all dancing in euphoric emotion as the snow slowly fell on us. These City Year AmeriCorps members brought excitement into my school environment even when the space outside of that seemed hopeless.  
I am from Queens, New York and I grew up in subsidized public housing projects. School and the YMCA on weekends were the only places I felt safe. With crime and heavy police presence in my neighborhood during the end of school hours, the City Year afterschool program is where I would spend my evenings. It was also the place I felt free to be myself after a long day of learning.  
City Year influenced my family's life greatly – to put it simply. Seven years before I would come across this transformative school partnership, my older brother and once misguided student, Luany met Eli Linthicum, a City Year AmeriCorp member from Maryland serving in New York City, who would go on to become his life-long mentor and friend. Eli was my brother's reading tutor and encouraged him to join the after-school program. Eli believed in the power my brother had as a young person and invested his time and effort into ensuring that the tumultuous community did not hinder my brother's progression – and all of the other young students alike. This connection only strengthened as time went on. Eli began working at the local YMCA and employed dozens of youths, with Luany being one of them, in the low-income communities I grew up in. He created sports leagues that gave young people a safe way to play the games they would already be playing in their neighborhoods, with a safer space to do so. Fast forward almost twenty years, Luany and Eli's mentorship turned friendship still stands strong today with my brother being a groomsman at Eli's wedding. I believe the lessons I have learned from my older brother are in part, due to the lessons he was taught by his fourth-grade reading tutor. The impact City Year has is rippling through and beyond generations.  
Today I serve because it is how I give back to my community, to my people, and to my younger self. I hope to create the same long-lasting impact on the wonderful students I serve as the AmeriCorps members who have served before, had on me. It was selfless human beings like Eli and so many others who have instilled in me the importance of having willful mentors, apart from the primary educators, in that learning space who are ready to take part in the joyous journey of learning with their students. My service year has not been the easiest year for me by far, but I learned that, with the knowledge and experience left to me by the mentors I have had the gracious opportunity of coming across in my school career, 'tough times do not last, tough people do'. Through these small impactful lessons, I am able to continue serving selflessly for a cause greater than myself. I am proud to now serve as an AmeriCorps member with City Year San Jose/ Silicon Valley at Meyer Elementary School.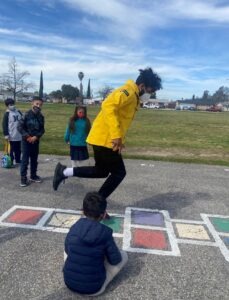 Ethan Viera currently serves as a City Year AmeriCorps member for City Year San José/Silicon Valley at Meyer Elementary School for 2021-2022 academic year.