My first day on Team Care Force (TCF) was Friday July 12, 2019. The following night I was standing in Home Depot in Orlando at 9:30 PM trying to locate as many supplies as I could for the Houghton Mifflin Harcourt (HMH) event before they closed.  During the drive back to the hotel, the event manager Hugh Harlow, said to me, "I bet you didn't think you would be at Home Depot at 9:30 on your second day." I replied, "Hey, this is what I signed up for." This was just the start of my first event with TCF.
Three other TCF members flew down to Florida with me for this event: Molly Rogers, Nana Boateng, and Delaney Pummill. The HMH event was very eye-opening for my team and me as event prep started on our second day of the service year, so we had no time for training, and had to learn a variety of skills on the job. We were also supported by two TCF Alum, Alice Newman ('08) and Cautchy Bailly ('09). We started event prep by priming the wood for the eight free little libraries that would be built. We also sketched mural tiles and school logos on the library roofs for the volunteers to paint. Learning how to measure, cut, and kit wood was a completely new experience for me, and using a chop saw was even more squishy. I was very nervous, but Hugh was extremely patient and showed me how to cut the wood in a very safe and effective manner. After the wood was cut and kitted, we pre-built four bookshelves, so we could effectively lead volunteers on event day. Cautchy and Alice's knowledge was instrumental during this process. Their experience using drills and reading schematics was helpful, especially since this was also my first time using a drill. I worked with Cautchy, and he let me do all the drilling so I would feel more comfortable on event day. After the free little libraries were built, we them as well as the kits the volunteers would be building.
TCF member Nana Boateng led a group of volunteers in assembling the remaining bookshelves. These bookshelves were delivered to the eight schools where City Year Orlando serves to bring a little life into the City Year rooms.
Front volunteers paint mural tiles to be affixed to the bookshelves that match the books that were donated by HMH. Volunteers in the back paint the school logo on the roof of each bookshelf.
The last night of prep Hugh took us all to dinner at an Irish restaurant across the street from the hotel in Disney Springs which had dancing, live music, and great food. After dinner, Hugh let the team walk around Disney Springs; this allowed us to get to know one another better. While walking around, we went inside The Lego Store, and saw lots of cool life-sized figures including Darth Vader. After that, we went to a gift shop so that Alice could get a present for her son. It was a very fun night, and I was glad to have the chance to get to know my team better.
With event day finally upon us, the team spent the morning and afternoon getting ready for the evening event. HMH was having a conference at the Hilton in Orlando Buena Vista Palace, and volunteers could stop at four main projects on their way to dinner. Delaney and Cautchy's volunteers were tasked with painting mural tiles that were going onto the bookshelves using Velcro and painting the school logos on the roofs of the bookshelves. Volunteers at Nana's station constructed the remaining bookshelves and I worked with Alice to lead volunteers who put stickers on the books that HMH was donating. Molly's group made origami bookmarks that went with the donated books. Once my volunteers were done, I moved over to construction and led volunteers in building the final library. I was very nervous, but I relied on my experience the previous day and together the volunteers were able to finish. In just two hours, volunteers were able to finish all the tasks we had laid out and the team felt very accomplished in completing our first event.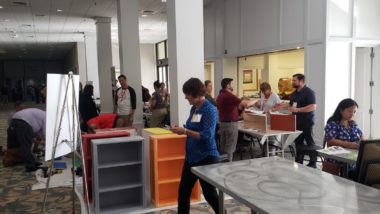 Volunteers work on a wide range of tasks that allow them to use different skills including painting, construction and making origami.
The team and Tara from City Year Orlando (front right) work on decorating a few mural tiles before the event.
The next morning, we got up bright and early to deliver the libraries, books and bookmarks to each school, and it was very rewarding to see how excited the schools were to receive them. During the drive, Hugh had me call a few places to ask and see if they accept extra paint. When I called, I said, "Hey, my name is Ben, and I have extra paint that I cannot use. Can I drop it off with you?" The associate said, "No." Hugh used this as a teaching moment and told me to explain a little bit about City Year and what our project was. I took his advice and the next place I called took our paint. I was very proud of everything I learned on this event and am thrilled that I had great people to teach me the ropes. This event helped lay the foundation for the work I would be doing for the rest of the year.