Relocating to serve isn't easy; we want to help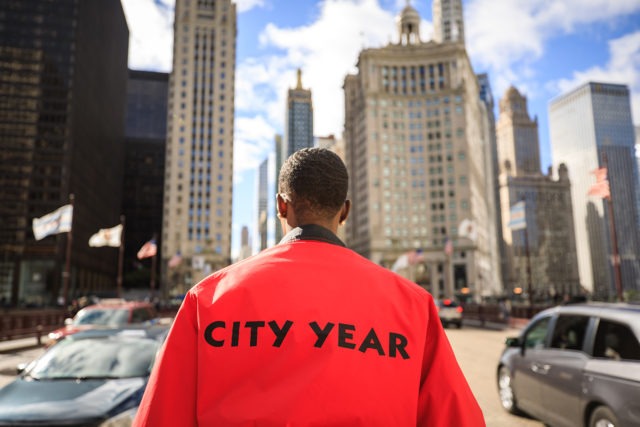 Congratulations and Welcome to City Year
It's official! You've just confirmed that you'll be serving full-time in schools as an AmeriCorps member with City Year–part of a talented team working with students every day, helping them to set goals and reach their full potential.
Like most people, you probably have a flurry of questions about your transition to service. Questions about your first day, how team dynamics work, or how to form meaningful relationships with students.
On top of all these exciting aspects of your transition, you may need to move to a new city. Fear not! We're here to help.
We know that one of the more challenging aspects for new Corps members can be the process of uprooting your life in one city to move to another. Moving is something that's not only logistically challenging but can also be a strain financially, particularly when you're learning to live on a stipend.
Acknowledging this challenge as part of a wider strategy to enhance the overall experience of our members, the AmeriCorps Member Experience team (ACME), brainstormed a way in which the organization could better support AmeriCorps members during their transition to service — from acceptance to day one. The team also held various roundtables with AmeriCorps to hear first-hand about their biggest challenges when starting service.
Helping with relocation costs made it to the top of the list.
"We started talking to AmeriCorps members more consistently about what we could be doing differently and noted that the financial challenge of starting a new life in a new city was a reason many people weren't showing up," says Alex Allen, who leads City Year's ACME team. "We want to ultimately make this experience possible for people with all kinds of financial circumstances and so it was important to think about equity."
Introducing the Relocation Allowance
Starting in January, 2019, City Year began to offer a universal one-time relocation allowance of $500 to any confirmed AmeriCorps member who is moving 50 or more miles. And while it may not cover the entirety of the one's expenses, it's meant to show that City Year appreciates its AmeriCorps members and wants to support their decision to give a year of service at one of our 29 U.S. sites.
"We're going to do whatever we can to help bridge some gaps," says Alex. "It shouldn't matter what site you end up choosing — our members should all get the same set of transitional benefits. Though we know that this may not completely solve the financial burden of moving, the hope is that it will positively contribute to someone's decision making process when they're made an offer to serve with City Year."
Deciding to say "yes" to a challenging but worthwhile year of service with City Year is a big deal. Our AmeriCorps members come to school every day before the first bell rings and they stay until the last child is picked up from afterschool programming. Our members work these long hours to support the academic and social-emotional needs of their students.
While we know that service is about so much more than money, the Relocation Allowance aims to support our AmeriCorps members the way they show up for their students — with understanding, empathy and a willingness to provide aid wherever possible.