From Little Rock to the Big Apple, one City Year AmeriCorps member shares his journey
Serving with City Year AmeriCorps
Aaron Agee, a current AmeriCorps member serving students in The Bronx, first heard of City Year when he was in high school. He was attending an afterschool program in his home town of Little Rock, Arkansas, where City Year happened to be hosting a service day. Puzzled by seeing a sea of young people in red jackets, Aaron turned and asked his mentor, "Who are they and what are they doing here?" At the time, he didn't know that this moment was the beginning of something that would greatly impact his life.
A few years after his first red jacket encounter, Aaron was in college and trying to figure out what his next steps would be. "My friends were deciding what they wanted to do after college. They wanted to be nurses, engineers and lawyers," he says. "But, then I asked myself, 'How do I want to have an impact?' and the first thing that came to mind was City Year."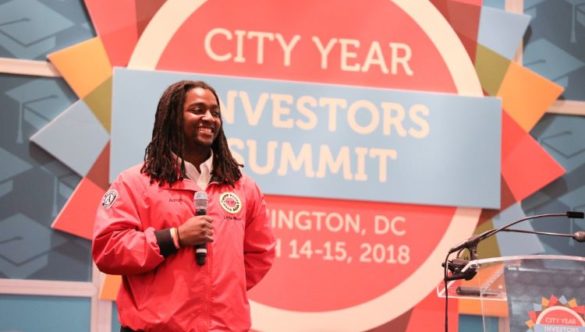 He decided that he wanted to serve in his hometown with City Year Little Rock. For Aaron, it was a chance to get to know his community on a different level. "Before City Year, I was a relatively quiet and introverted person," he says. "But, joining City Year Little Rock and being a part of a larger community gave me the opportunity to interact with different people like my students and their parents. It was a pretty awesome experience."
Exploring a new city through service
Aaron decided that he wanted to come back and serve a second year. His Team Leader, who was a Bronx native, encouraged and inspired him to apply to a second-year position with City Year New York. Toward the end of his first year of service, Aaron received word that he'd been accepted there as a team leader. Having only visited "The Big Apple" once when he was in college, he decided to take a leap of faith and set out on the second part of his City Year journey.
Aaron knew that moving across the country wouldn't be without its challenges. Logistically, he knew that finding housing in New York would take both patience and dedication. Agee remembers reassuring himself, "I don't know where I'm going to live. But, it's all going to work out in the end."
Aaron moved to New York before his service to get a head start on the apartment hunt, staying with family friends as he searched. He used resources like Padmapper and Craigslist until he finally found an apartment with roommates near his school in The Bronx. "I had to learn to be a master planner once I decided that I was going to make the move from Little Rock to New York," he recalls, "in order to make my transition as smooth as possible."
Culturally, moving across the country has also been an adjustment for Aaron. Going from life in a southern city of roughly 200,000 to life in an expansive urban metropolis of 8 million is no small feat. Aaron says that being in a more diverse city has helped him to become more inclusive in his actions and language. "I've been learning so much and asking so many questions. "This year has taught me to be honest and vulnerable enough to learn from people with different experiences than me," he says.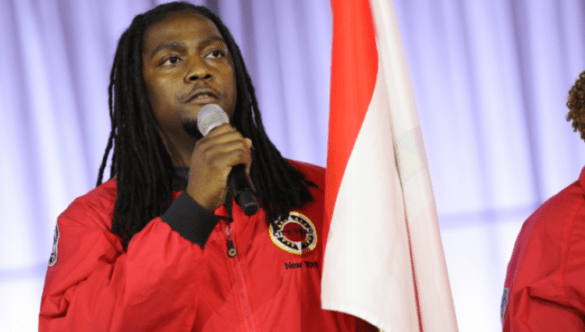 Now only a few months away from completing his second year of national service with City Year, Aaron is thinking about extending his service journey through a career with City Year.
Aaron has also started to reflect on the impact this experience has had on his life and he shares advice to anyone considering answering the call to service.
"There will be things that you don't know but be open to learning. There'll be many opportunities for growth so take initiative but also trust the process. Welcome the new experiences and grow from them. Deciding to serve with City Year will not only benefit you but it will also benefit others in the long run."
Interested in exploring a different part of the country through service?