Leadership After City Year: CYP Alumnus Sam Rodriguez Creates "Walls for Justice" Centered on Black Lives Matter Movement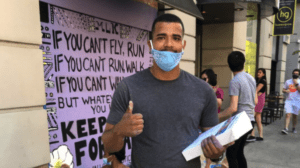 This year, our country has gone through many events that make it hard to remember there is light behind the clouds. It's easy to get weighed down by it all, and not look around to see those who are making a positive impact. Recently, we were able to talk to Walls for Justice creator and City Year Philadelphia (CYP) alumnus, Sam Rodriguez. 
Walls for Justice is a charity organization painting and decorating Philadelphia storefronts with community-driven Black Lives Matter messages of hope. A cross between a mural arts and civil justice organization, the organization has been Sam's way of getting community members involved in the Black Lives Matter movement. Walls for Justice paints murals on buildings that were boarded up during this summer's protests, with many of the murals adorning inspirational quotes and paintings of prominent people of color.
"City Year Provided Leadership Development and a Service-Driven Mindset"
Sam's journey with City Year began in 2008 when he joined as a Corps Member directly out of high school. He had seen Corps Members in the high school he attended and had even helped them create murals for the school's library. After high school, Sam decided City Year would be a good way to serve his community.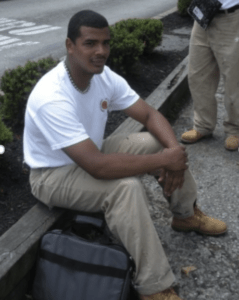 Sam mainly wanted to join City Year to work on his leadership abilities. "City Year taught me how to be a leader and how to effectively plan something," Beyond leadership development, he says that working with students also helped him have a service-driven mindset. 
After City Year, Sam used the skills he'd learned to get a position at Philadelphia Mural Arts as a teaching assistant. There, he created an Alumni Association which focused on things like fundraising for scholarships. "City Year gave me an eye for leadership. Without it, I may have never found the courage to go to such great lengths at Mural Arts." 
"Walls for Justice Was Something Philadelphia Needed" 
The next stage of his career Sam deems as, "An opportune moment to turn something bad into something good." Sam founded Walls for Justice. When businesses boarded themselves up during this year's protests for George Floyd and for racial equality, Sam felt, "It gave a bad connotation; as to protecting themselves from their own community members." To this end, Walls for Justice projects are a way for businesses to show support for their community, rather than shutting them out. 
It's also a chance for Sam to not only be a part of change, but help others be a part of change as well. The murals are painted by members of the community, all looking for a way to be a part of the movement. "Walls for Justice was something that Philadelphia needed," Sam says. "It was something that volunteers were yearning for."
For Sam, his charity organization has been a long time coming. "I honestly feel like it was all the preparation I've had throughout these ten years. It was the service and art experience from the very beginning at CYP and with Mural Arts that spoke to me." 
"I treat Walls for Justice as a service gig event which allows things not to only be done efficiently, but also helps ensure both me and the volunteers don't lose sight of the purpose of the murals." 
Therein lies Sam's advice for current and incoming City Year AmeriCorps members. "My success came from removing myself from the picture. I always did it to inspire and motivate others. You won't always know your impact, but know that if you're influencing one person, you're making a difference in the world." 
How to Get Involved with Walls for Justice
Sam hopes to continue the Walls for Justice murals by finding more businesses to participate. "The easiest way people can get involved is by following us, spreading what we do, and connecting us to people who want artwork."
Sam also has a long-term goal of expanding. "My hope is to have it spread to other cities which will give us an opportunity to not only inspire communities here in Philadelphia, but all around the country."
Finally, Sam expresses his desire to establish a City Year/Walls for Justice collaboration. "One of my goals is to do a project with City Year. It would be great to see my path come full circle and to give back to an organization that has helped me along the way." 
To keep up with Walls for Justice, make sure to follow on Facebook and Instagram, as well as on Calendly for opportunities to paint. There is also a GoFundMe to support with supplies needed for murals. For those looking to paint, no experience is necessary as Walls for Justice ensures the art is simple enough where volunteers are filling in basic shapes or lines. "If they express what they are good in or what they desire to help in, anyone can be a part of Walls for Justice."